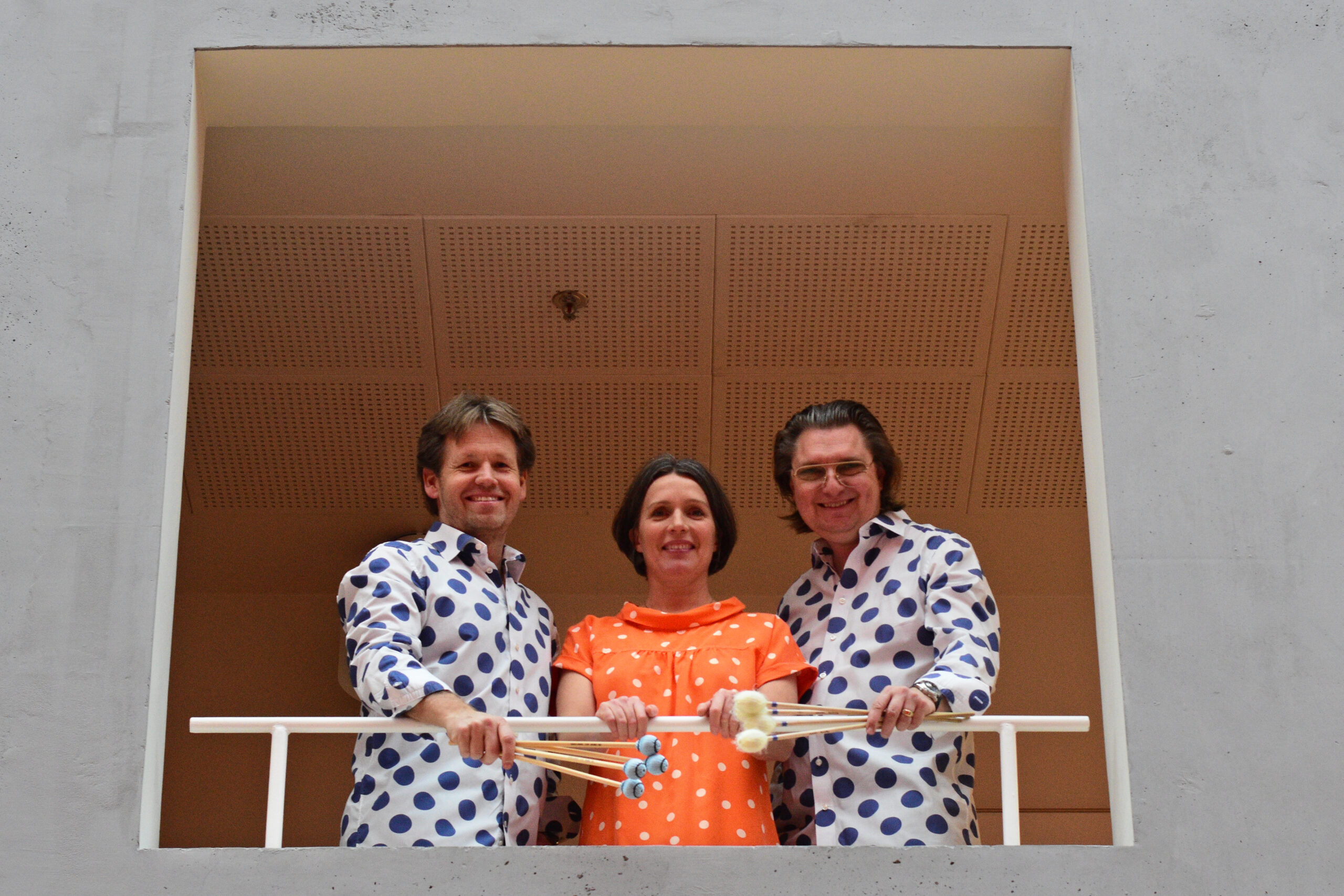 In 1978,  Swedish percussion ensemble Kroumata started a successful cooperation with flautist Manuela Wiesler. A large number of works were commissioned for the ensemble, and performed world wide.
Rhythm Art Duo and flutist Ann Elkjär have the ambition to continue this tradition – more percussion- and flute music to the music lovers! On the repertoar is, among a lot of other lovely works, the contemporary classic "First Concerto" by Lou Harrison, also featured in the CD Carousel. The trio cooperates with several composers of today, and their concert repertoire is constantly updated.
The trio has won acclaim for their virtuoso music making, in a lovely sound world, combined with a great contact with their audience. And concert presentations, with a pedagogical – as well as humoristic – touch. 
Welcome to a world of magic sounds!
Contact:
Daniel Berg,  +46 70 926 73 79 daniel@einarart.com
---
About Rhythm Art Duo
Daniel Berg and Fredrik Duvling formed their duo in 1992. They collaborate with several of the Swedish  music foundations, chamber music societies  as well as schools, to  to support the younger generation of classical percussionists, and encourage children to play the instrument.
The Rhythm Art Duo tours extensively in Europe, and collaborate closely with composers as Loreta Narvilaité, Paula af Malmborg Ward, Miklós Maros, Torbjörn Grass, who all composed music directly for the Swedish percussion duo. 
Daniel Berg –  marimba artist
Daniel is a versatile marimba soloist, composer and educator. He holds the position as the percussion and chamber music teacher at the University Colleges of Music in Stockholm, Örebro and Gothenburg (Sweden).
In his passion to promote the marimba as a solo- and chamber music instrument, Daniel has worked intimately with a number of composers who have written original music for the instrument. This includes more than 200 world premiers for solo and chamber works.
As a composer Daniel has written a couple of solo works for marimba like Over the Moon, December and Blue Memories. The pieces belong today to the standard marimba repertoire. His works are published at the Edition Svitzer (Denmark), Norsk Musikforlag AS (Norway) Gehrmans (Sweden) and Keyboard Percussion Publications (USA).
Daniel Berg plays Bergerault marimbas and use Elite Mallets.
Fredrik Duvling – percussionist with a broad background in music.
Fredrik is a regular member of the Gothenburg Opera Orchestra. He has also a busy freelancing career, visiting different symphony orchestras as The Royal Opera Orchestra in Stockholm, Gothenburg Symphony Orchestra, Malmö Symphony Orchestra, Norrköping Symphony Orchestra and Trondheim Symphony Orchestra among others.
At Pre University in Ingesund, Arvika he studied for the legendary Björn Liljequist for one year before he came to the University of Gothenburg and studied for prof Einar Nielsen and Bo Holmstrand. During the first year there he and Daniel started to play as a duo and started Rhythm Art Duo in 1992.

At the same period he studied for prof Gert Mortensen in Copenhagen.
When Fredriks not work at the Opera he teaches percussion at the University of Örebro and at Pre University in Ljungskile.
Ann Elkjär
Flutist Ann Elkjär has won acclaim for a vivid and expressive musicianship, that she prefers to use in close collaboration with her chamber music friends – in a duo with guitarist Martin Fogel (UK), or with pianist Hee-Won Park (Germany). She also gets her appetite for contemporary music satisfied in the flute quartet 40f.
Ann is a graduate both from the Gothenburg School of Music and the Royal Academy of Music in London, from where she was awarded the prestigious "Queen's Commendation for Excellence". She has won several prizes and awards, among them a second prize in the major Swedish music competition "Ljunggrenska", and the first prize in the International Kuhlau flute competition 2003. She has performed in prestigious Concertgebouw, Amsterdam. Ann was awarded the honorary title "Associate of the Royal Academy of Music" in 2009.
Programme
Casey Cangelosi – Theatric no 1
Miklós Maros – Alfresco
Daniel Jarl – Riff Maniac
Katherine Hoover – Winter Spirits
Rolf Martinsson – Whiz
Loreta Narvilaite – Akataka Paus
Friedman/Samuels – Carousel
Eugene Bozza – Image
Anna Eriksson – Pas de deux
Paula af Malmborg Ward – Crooning
Lou Harrison – First Concerto for Flute and Percussion